Chamomile Flowers Cologne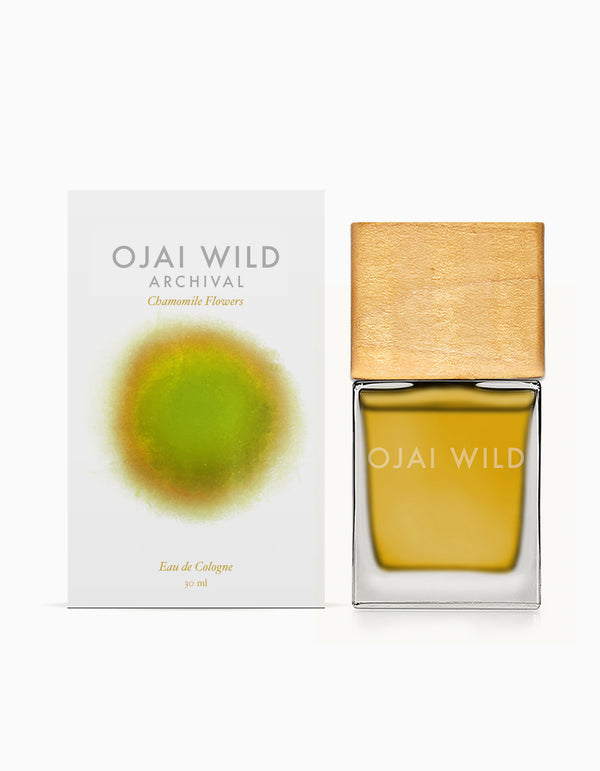 An agrestic, intimate beauty
I am fastidious when it comes to natural perfumery. It just so happens that when I started exploring fragrance composition, I aspired to be a natural perfumer. It wasn't very long that I felt restricted by the limited palette and was challenged by the tendency for materials to collapse into each other, resulting in muddled, confusing concoctions that did not resemble perfumery. I felt more at home with "mixed media."
Be that as it may, while I find most natural perfumery leaves much to be desired, there are of course those whose works are quite impressive and compelling, such as Mandy Aftel and Dawn Spencer Hurwitz. There is also the work of Janna Sheehan of Ojai Wild, who seems to illuminate the most favorable qualities of natural botanical materials (many of which are locally sourced by the brand), having developed the skill in having them cooperate, rather than work against each other, on the olfactory canvas.
One such example is the stirring beauty of Chamomile Flowers, which takes the note of chamomile, built around an extract of chamomile flower grown on site, and fleshes it out with grapefruit,and cognac oils, champaca, linden blossom absolute, white sage, neroli bigarade, and Australian sandalwood. There is a hint of tonka that sweetens its drydown. The end result is the smell of peace, fit for full inhalation, with no element feeling out of place. Agrestic in nature, it appeals to my back-to-nature sensibility, where I feel most at home, away from heavy traffic and noise pollution; places for quiet contemplation and spaces for inspiration. It smells like sipping chamomile wine at sunset, with a view of asters and goldenrod in the meadow. It's easily one of my favorite natural perfumes.
writer at large, New York Times Style Magazine
"The scents are piquant and original. They're fresh yet surprisingly layered and sophisticated, which is a challenge with an all-natural palette.